Not only that the advertising sector of Amazon is constantly growing in impressive pace, but the latest survey, performed by Third Door Media (controlling entity of Marketing Land, Search Engine Land and MarTech Today) revealed that even 80% of Amazon advertisers are about to increase their budget in 2019.
From the respondents, 37% admitted that by now, they have used 10% of their annual digital advertising budget on Amazon, while 24% stated that it makes from 10% to 25%. Higher percentage, between 50% and 100% was spent only by a small number of advertisers on Amazon, focusing only on this channel.
Nevertheless, what is important for Amazon, from those 80%, around 20% plan to increase their budget on Amazon by 50% or more. More than 30% of respondents state that they are intending to shift from traditional search ads, while 23.5% will move from display or other non-digital budget (printed materials or standard TV ads). Furthermore, almost 21% will shift from social media and 18% from other marketplaces (see below).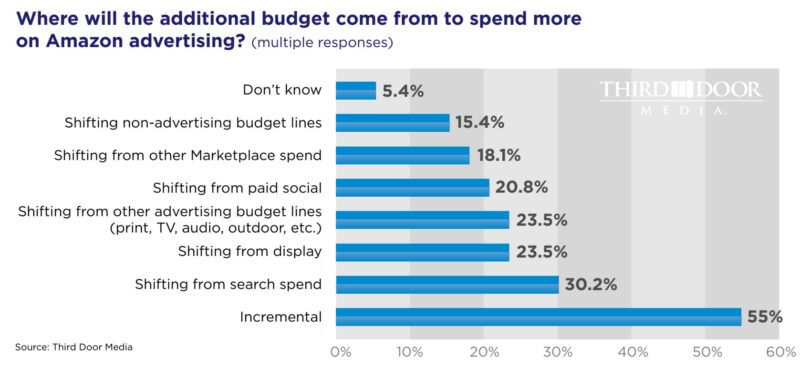 What was an interesting fact about this survey was the finding that 28% of respondents outsource their advertising activity on Amazon while only 24% have a in-house team dedicated for Amazon.
But how about automation? Around 22.5% informed that they are using automation tools for Amazon campaign management and 44.4% of respondent added that they are intending to do so over the next year.
And the products bought? The most popular are still the well-known Amazon's pay-per-click product search ads, reaching 86.5%. Dispay and video ads are used by 58% and 50% are using both AMS and AMG formats.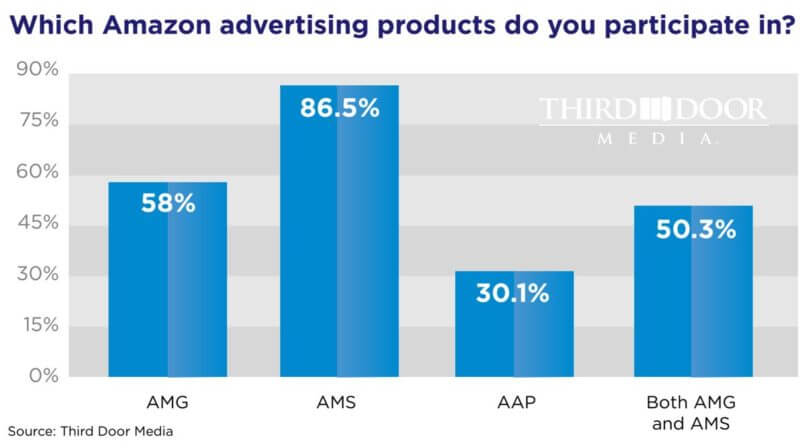 Amazon's product search ad inventory became one of the most popular options on the market over the last years, but the company is not only focused on this offering. It has also special tailored offerings to marketplace sellers with display and video inventory on its owned along with operated properties as well as a DSP so Amazon audience can be targetted properly.
Although Amazon remains far behind Google and Facebook when it comes to digital advertising market share, the company is putting more and more efforts to improve its position. Thus, the company is on the right path to be important partner for more and more advertising agencies,  tool providers etc.