PropellerAds has launched a completely new format for advertising – Push Notifications. This feature was limited before to a pure delivery channel, however in these days, Push Notifications have reached a higher level after the improvement, getting into the category of premium ad tools.
Push Notifications are developed by PropellerAds so the needs of advertising subjects can be fulfilled much better, thus narrowing the focus on the rights clients even more, reaching the required audience, while leaving any other auxiliary tools (banners, social media) behind.
Not sure what these Push notifications are? Imagine you client, using a browser on his desktop or playing with his phone, while a short warning message will appear in front of his eyes with an icon. Look at this example of mobile push notifications and try to imagine what your client could see: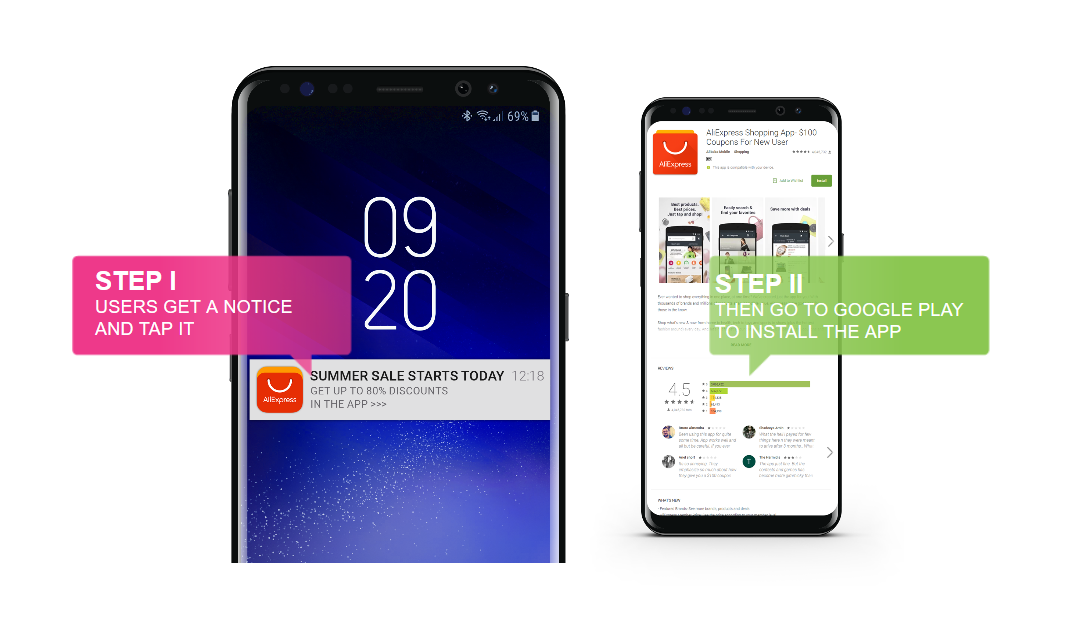 What are the Push Notifications for?
As mentioned above, Push notifications are completely new Ad format, however becoming quickly popular. Therefore, let's take a closer look on how they can help you
1. You get real traffic, not bots
Of course, user must expressly agree to receive push notifications while subscribing to the notifications on respective websites at the same time. This fact should be supportive for the problem of bots as this procedure supports real users and eliminates any bot traffic.

Naturally, there is the question everyone is worried about – the intrusive nature of such feature. Even this problem is solved by receiving only a certain number of notifications per day, while the user can feel that he has it under control as he will have the option to unsubscribe at any time.
Therefore, due to these facts, the quality of such traffic and communication with them is much higher, so your campaigns may target more specific audience.
2. Maximum viewability and high CTR
Here, you don't need to worry about the customer not seeing what you want. This message will occur directly at their device or browser, thus supporting also the Click-Through Rate (CTR) statistics, being a more problematic area of other ad formats.
Push Notifications are able to occur on device of browser of respective customer even if he is not using his mobile phone or using that browser.
3. Increasing the acquisition efficiency
This is a very valuable tool to provide customer acquisition. With its more specific focus all around the world, reaching beyond the existing clients of your company, you'll find it very useful in further campaigns.
Moreover, not to limit this feature only to certain area, its developer – the PropellerAds, has developed a full range of options for push notifications, making it possible to target users on each platform and device where also web and mobile push notifications are included.
4. Enhanced retention and audience wanting to interact
The native character of this ad format brings more extensive potential to you as it's not only native to the website content, but to the interests of the user. Therefore, by using push notifications, the audience you get are people who are really interested in the products or service you are promoting.
But it's not always only about the new customers. Also the existing ones should be taken care of. Push notifications were demonstrated that they increased the retention rate by one fifth.
5. Options for customization along with instant delivery
There is the potential to send large number of messages all over the world almost immediately. Such speed is comes along with customization options: you can choose where the user may view your messages (this is a key element in case of specific offers or certain events) along with emoji and visual elements.
Web or app push notifications?
They may look very similar, however there is a different system and approach behind you must weigh when using them. In the event of app push notifications, you'll be sending them from an app, so it must come from someone who has this app.
Otherwise, you can use the web version of push notifications (so even without an app). For this purpose, there is a fresh new Push Notifications service developed.
There is also the possibility that you have developed your own app, which may be updated by any other auxiliary installations through Push Notification Ads.
What can it be used for?
This is a universal ad format, applicable to any type of products or services where also CPA offers may be included. There are different and extensive potentials to promote any kind of content (offer, announcement, website update, brand awareness).
Therefore, whenever you use push notifications, you may weight different content like various e-books, check-lists, special promos & offers, mobile apps, alerts, news, etc. It'll allow you to provide more diversity to your marketing options, helping your business to improve even further by communication with the right clients.
Campaigns
This new format will be available for CPM campaigns on the Platform of PropellerAds. There you can initiate new campaigns under the "Create Campaign" button, where you'll select the CPM pricing model and then the Ad Format "Push Notifications".